Regular Menu

Soupes Et Entrees
Soups and Appetizers
Soupe à l'oignon
(French Onion soup) Onion and French bread au gratin soup.
$19.500
Crême délirante de homard
Cream of lobster, fish and vegetables.
$19.500
Veloute de champignons avec croquettes du fromage bleu
Wild mushrooms soup with blue cheese croutons and tomato caramel.
$17.500
Carpaccio de saumon avec dressing de sesame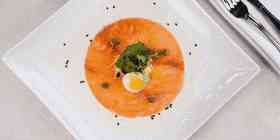 Fresh, thinly sliced salmon in a dressing made of sesame, capers, lettuce and parmesan cheese.
$18.500
Ceviche de homard et crevettes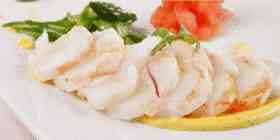 Lobster madallions and shrimps marinated, scented with panka and mirasol chilli, garnished with imperial corn.
$29.800
Salade Grecque
Fresh greens, feta cheese, artichokes, tomatoes, bell peppers and black olives, served with balsamic vinaigrette.
$18.500
Moules provençal
Steamed Mussels with butter, mushrooms and tomato , accompanied with truffle scented French fries.
$26.500
Crème de champignons paris avec du fromage bleu
Paris mushroom soup with blue cheese croutons and tomato caramel.
$19.500
Volaille et Lapin
Poultry and Rabbit
Canard a L´ Orange
Roasted duck breast served crispy with orange sauce, garnished with orange segments served with mashed potatoes and sautéed colorful swiss chard.
$74.400
Lapin Sauvage Aux Sauce Chasseur et champignons
Roasted rabbit in hunter´s sauce with creamy wild rice.
$49.500
Suprême de poulet truffé à la jardinière
Chicken supreme stewed in a vegetables creamy truffle sauce, garnished with fettuccine pasta.
$44.500
Poissons
Fish
Filet de poisson aux fru its de mer
Seasonal White fish filet with a rich lobster, shrimp and mussels sauce, garnished with mashed potatoes and vegetables.
$49.500
Truite avec sauce au fromage bleu
Grilled rainbow trout with blue cheese sauce, garnished with organic salad tossed with orange vinaigrette and balsamic vinegar, avocado pearls and crispy roasted potatoes.
$44.500
Salmon and red bell peppers
Grilled salmon filet, dressed with wild mushrooms sauce, garnished with roasted bell peppers stuffed with cream cheese.
$42.500
Smoked Pacific Sheriff
Sheriff fish fillet (Pacific) grilled on a bed of seasonal vegetables sautéed and bathed in a smoky
panela sauce (dried sugar cane juice); fresh citrus tones.
$44.500
From the Jungle
Yellow fish fillet (Amazon), grilled and bathed in a curry sauce with capers, garnished with native gratin potatoes with fine herbs and mustard.
$42.500
Recomandations du Chef
Chef's Recommendations
Champignons aux trois fromages
Bottom mushrooms in a creamy gruyere, parmesan and blue cheese sauce
$18.500
Terrine de La Maison
Duck and pork terrine, with green pepper and Armagnac.
$17.500
Trilogie du mer
Fish, garlic butter calamari and shrimp
$18.500
Escargots de Bourgignone
Snails served in a garlic and parsley butter sauce.
$29.500
Foie gras au Armagnac
Home made Duck and goose liver pate scented with Armagnac brandy.
$49.500
Carpaccio d´artichauts
Fresh artichoke thinly sliced served with shredded grana padano cheese , capers, tomato and balsamic reduction.
$39.500
Fruits de la Mer
Seafood
Friture de fruits de mer
Jumbo shrimps, squids, mussels and white fish, lightly breaded and garnished with Swiss chard tempura and cherry tomatoes.
$59.500
Crevettes géantes à la provençale
Jumbo shrimps in tomato, mushrooms and butter sauce, served with fettuccine.
$76.500
Bouillabaisse San Isidro
Traditional French soup made of fish, jumbo shrimps, salmon, squid rings and vegetables juliennes flambéed with
Ricard ® and saffron.
$49.500
Crevettes Creole
Jumbo shrimps sautéed, served with creole sauce (base of tomato and onion), garnished with plantain balls stuffed with cheese (aborrajados).
$76.500
Crabè gratin
Blue crab meat lightly gratinated served with green mango Carpaccio and paprika rice.
$42.500
Tropical Jumbo Shrimps
Grilled Jumbo Shrimps, garnished with mashed potato balls stuffed with rice,dressed with mango and avocado sauce.
$76.500
Homard
Lobster
Homard de la maison
Lobster tail sautéed with shrimps, calamari, tomatoes and lobster bisque, garnished with creamy spinach and bacon, mashed potatoes, and mushroom stuffed with escargots.
$109.500
Raviolon d'homard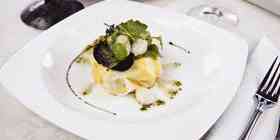 Rice Pasta sheath stuffed with lobster medallions and shrimps, in a mango curry sauce, garnished with hearts of palm and lychee salad.
$76.900
Macadamia lobster
Grilled Lobster tail over native mashed potatoes bathed with macadamia nut sauce.
$109.500
Béarnaise Lobster
Grilled lobster tail, served over organic mashed potatoes and dressed with tarragon sauce.
$109.500
Homard Newburg
Langosta salteada con agridulce de piña, naranja y bisque.
$99.500
Viandes
Meats
Cote Echine de porc aux oignons caramélisés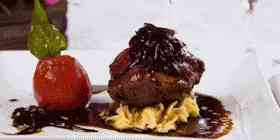 Pork bondiola grilled with caramelized pearl onions, and served with Andean mashed potatoes and tomato confit.
$41.500
Steak dans son jus aux fines herbes, assez cuit
Grilled steak accompanied by country potatoe and grilled tomato confit.
$69.900
Chateaubriand Portobelo
Steak served in a Portobello mushroom sauce and accompanied by country potatoes and tomato confit.
$41.500
Carre d'agneau au romarin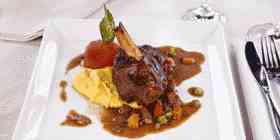 Costillar de cordero aromatizado con mostaza a la antigua y romero, acompañado con cous-cous y lenteja rosada.
$69.500
Steack de bouef au poivre
Lomo de res parrillado con salsa a la pimienta, servido con papa campesina y tomate confitado.
$39.500
Duet de point de bouef et homard
Dueto de lomo de res y langosta con reducción de Merlot y chalotas asadas.
$69.000
Menú colombien
Menu colombian $54.500
Cuchuco soupe de blé
Typical soup from the region of Boyacá, based on wheat and pork backbone.
$18.000
Filet de poisson andine
Grilled Sea Bass, on a bed of Andean potatoes and creole sauce (tomato, onion).
$56.500
Vegetarianos
Rissoto aux trois champignons
Risotto made with Portobello, porccini and French mushrooms, and blue cheese.
$44.500
Seasonal vegetables tempura
Served with balsamisc reduction.
$38.500
Spring Cannelloni
Stuffed with seasonal v
egetables, dressed with
tomato sauce and cheese gratin.
$38.500
| White Wine | |
| --- | --- |
| Undurraga (Gewurztraminer) | $104.500 |
| Aliwen Reserva (Chardonnay) | $119.500 |
| Raymond Collection (Chardonnay) | $184.500 |
| Tolentino (Pinot Gris) | $139.500 |
| Callia Reserva (Torrontes) | $119.500 |
| Red Wine | |
| --- | --- |
| Les Jamelles (Shirah) | $129.500 |
| Le Petit Jaboulet (Syrah) | $129.500 |
| Finca La Linda (Cabernet Sauvignon) | $119.500 |
| Marqués Casa Concha (Cabernet Sauvignon) | $194.500 |
| Sibaris Gran Reserva (Carmenere) | $159.500 |
| Sparkling Wine | |
| --- | --- |
| Undurraga Brut Deluxe | $119.500 |
| Cava Codorniu Brut Rose | $199.500 |
| Chandon Demisec Extra Brut | $162.500 |